The following items are for sale from Nature London. Prices include tax. You can buy these items from Ann Henderson at meetings or by calling 519-473-6719.
---

Guide to the Natural Areas of London and Region, Sixth Edition
Over 100 parks, conservation areas, woodlands, wetlands, and walking trails are described in this Guide for walkers, birders, and all nature lovers to explore and enjoy.
Published October 2020.
Available at Nature London events, select retailers, and online.
---
Photo field guides published by the St Thomas Field Naturalists Club:

Photo Field Guide to the Reptiles and Amphibians of Ontario – $15

Photo Field Guide to the Bats of Ontario – $8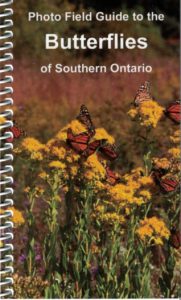 Photo Field Guide to the Butterflies of Southwestern Ontario – $10

Photo Field Guide to Some Caterpillars of Southern Ontario – $10

Photo Field Guide to Some Wildflowers of Southern Ontario – $15
---
Published by The Hawk Cliff Foundation:

A Field Guide to the Migrating Raptors of Hawk Cliff – $10